This year, I have performed a market analysis for a company in the European VR/AR (Virtual Reality / Augmented Reality) market. This was an eye-opening on a growing market. Below you will find some insights I captured in my report.
Analysis & positioning of the European VR/AR Market
The AR/VR market has a lot of players. Several of them are in their initial startup stage and just taking orders at the moment. Yet, some very big players can also be identified: Facebook's Occulus and Microsoft's Hololens. While Facebook does indeed dominate the market, there are other players to consider too, especially when focusing on the B2B AR market which is far more fragmented than the B2C VR/AR market.
Moreover, although Sony, Facebook (Occulus), HTC and Microsoft are indeed the biggest players in the VR/AR market. In the European AR/VR market, it is different. There is no clear European leader in the creation of VR/AR headsets, as most of the companies are still in their infancy:
Development risks
The reliance of the VR/AR headset market on Qualcomm should not to be taken lightly. Qualcomm is used as the microprocessor for the vast majority of VR/AR headsets across the world. In the event of stress on the supply chain, this development of the VR/AR headset market would be greatly disrupted. A market player using a different microprocessor would be able to mitigate this risk.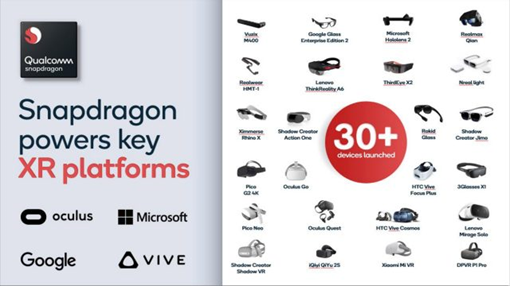 Player in the market should also anticipates future competition from Apple in the market. This risk is indeed non-negligible because Apple could also present a serious alternative to B2B AR/VR players in terms of confidentiality, quality and B2B trust. Other large companies must also be taken into account, in particular Google, Samsung and Xiaomi (Source: 12 Tech Corporates Working on AR/VR – CBinsights).
Moreover, the VR/AR development is still very competitive with a lot of new patents being generated, the new starters can lag far behind very quickly as the competition is fierce with players like Magic Leap, Facebook (Occulus) and Microsoft.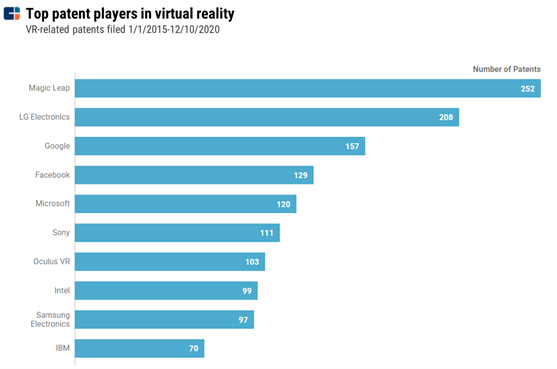 Ecosystem & outlets
The VR/AR market has many applications. The B2C and video games share is the most important (especially for VR) but in B2B, there are also many outlets. `Most of them focus on the medical and construction industries (2 of the top 3 professional sectors for VR and AR) if they want to avoid competing in the Gaming space.
Some other important use cases are growing:
Education/Training: VR can allow companies to reduce their training costs and allow employees to learn new skills more quickly (HBR)
Engineering: VR/AR solutions in engineering can be used for design, training, assistance, simulation, assembly, etc. (FutureFactory)
In order to be recognised as a major player in the VR/AR market, headset distributors must create key partnerships with VR/AR software developers.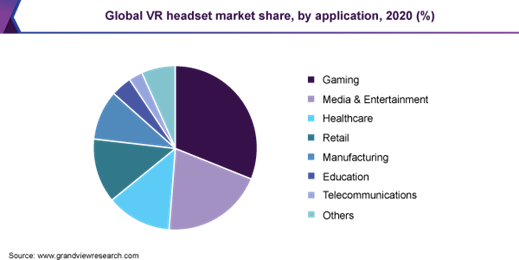 Market Size & Growth
The VR/AR headset market is growing but the research doesn't always agree on the numbers and the potential growth expected:
The augmented reality (AR) market is estimated to be worth $60.55 billion in 2023 with annual growth of 40%. In comparison, the virtual reality (VR) market would reach $34.08 trillion in 2023 and would grow by 34% each year (TechRepublic). These numbers appear to include both hardware and software related to VR/AR. The share corresponding to tools and materials (helmets included) could be evaluated at 64.95% against 23.91% for software (Bisresearch).
The market for tools and equipment related to VR/AR would be equivalent to $4.34 billion in 2021 and is estimated to reach $36.11 billion in 2025 via an annual growth of 68.4% (IDC, reported by The Journal). This growth would continue to reach $55.69 billion in 2028 with an annual growth of 28.2% between 2021 and 2028 (Grandview Research, reported by PRNewswire).
Within the market, AR and VR applications in the medical industry would have one of the largest market shares at 42.4% (Bisresearch).
—
If you are interested in this type of research, feel free to contact us.